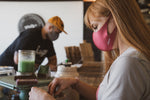 HOW IS JOE DEODATO & FAMILY WORKING TO MITIGATE THE SPREAD OF COVID-19?
As an essential business, we are lucky to remain open during these tough times to provide fresh, high quality, and nutritious produce to all of Kingston. To ensure safety of both our staff and the public, we have implemented numerous rules & regulations to help minimize the spread of Covid-19. This means consistent mask and glove wearing, screening questionnaires, temperature checks, and so on. We take these safety measures very seriously as we understand the severity of the pandemic. 
In addition to our safety protocols, we also offer next home deliveries and same day curbside pick up! This allows for minimal human contact and keeps everyone safe. All you have to do is call us when you arrive and we will bring your order out to you. 
All of the produce is picked by our staff which minimizes the risk of Covid-19 transmission as there aren't hundreds of people browsing through the products in store in comparison to the average grocery store.
If you have any other questions about how we are ensuring safety during the pandemic. Please feel free to contact us at (613) 507-9908 during our working hours.
#local #familyowned #kingstonproduce #joedeodatoproduce #onlineordering #homedelivery #curbsidepickup